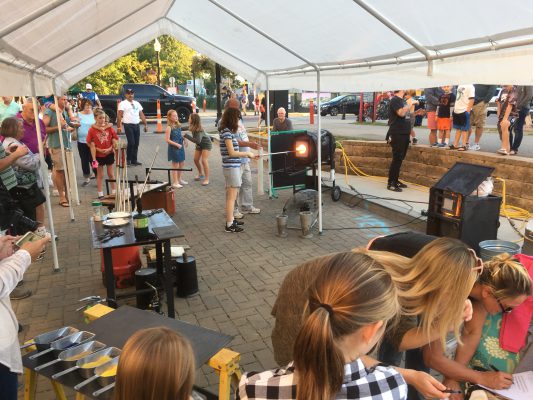 Hands-on Pumpkins @ Main and 2nd Ave.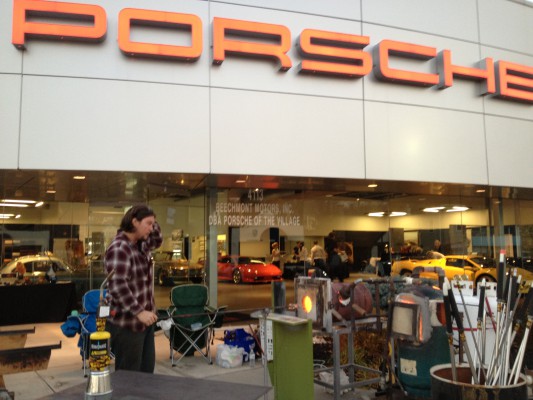 Not only can you come to Hot Blown Glass in Clayton, Indiana to watch Lisa and local glass artists at work and creating, but now too You! can hire Lisa with her crew to bring her portable glass blowing unit, fully equipped to set up and do live demonstrations at your event. Or better yet, let's make a plan to have your attendees create their own paperweight at your outdoor function. Your event will be more successful than you had initially anticipated! Lisa has been taking her glass blowing portable out to numerous events over the years. Arrangements can be made to accommodate your set-up. A range of options are available.
Email/call/text to discuss your event and how HBGÂ can help you step-it up, and determine pricing.
HBG can quickly cover the basic needs and requirements for a gloriously hot fun-time event, whether it is ongoing demonstrations or a hands-on project for pre-enrolled community or event participants; how the unit arrives and is set-up.
Referrals available.
Fully insured to participate at your event.
Lisa- 317-987-6862Â Â Â Â Â Â Â Â Â Â Â Â Â Â Â Â Â Â Â Â Â Â Â Â Â Lisa@hotblownglass.com
Where has Lisa and Hot Blown Glass Mobile been…you ask??
Carmel, IN. Â Columbus, IN. Â  Jeffersonville, IN. Â  Marion, IN. Â  Dunkirk, IN. Â  Wabash, IN. Â  Milwaukee, WI.
Avon, IN. Â  Cincinnati, OH. Â  Â …just to name a few…
Call me to get your event scheduled.